AutoShare posts to Social Media
There are many benefits of sharing blog posts to all social media that we have. One of the benefits is that the articles we have written are read by many people who are friends or looking for info on the social media.
Benefits of sharing blog posts to social media
Here are some of the benefits of sharing blog posts to social media, including:
1. Expanding Readers' Reach (Expanding Exposure)
If a Blog Article is not shared on social media, it will only appear on the Google search engine.
Meanwhile, if the post is shared to many social media, then close friends and other people who use the application search will display the keywords in the title of our post.
In other words, articles from blogs not only appear on Google, but also appear on Facebook, Twitter, Pinterest, Linkedin, Instagram, and all other social media.
2. Adding Blog Visitors
Of course the impact of our posts appearing in other media will invite more people to click and read the contents of the article. So that blog visitors will increase.
3. Increasing the Number of Backlinks
Initially the blog only gets backlinks from other blogs, later the blog will get backlinks from the Facebook site and friends.
4. Increase Income
The ultimate goal of increasing the number of visitors and backlinks is an increase in the salary of advertising. Ads that are often seen by viewers have the opportunity to get a bigger kpik too.
How to Share Blog Posts to Social Media
There are 2 ways to share blog posts to Social Media (MedSos), namely:
1. Manual
Share Distributing articles manually one by one after each article is finished publishing is often done by beginner bloggers.
This method is quite complicated and tiring because we have to press the share button or copy the post link to the social media that we want.
2. Automatic Share
This method is simpler, saves time and energy. Because we only need to post articles on blogs. While the task of sharing is carried out by an automatic application that runs every time there is a new post on our blog.
How to Share Blog Posts Automatically
Actually there are 2 special applications that I often use to automatically share blog posts to social media, namely:
A. Use the IFTTT app
Download the IFTTT app on Playstore or App Store
Press Continue
Choose a login method (Google, Facebook, Email)
Tekan Maybe Later
Press Search Box
Write Blogger
Select the Blogger icon/logo
Then select as many Applets as you need:
- Blogger to Facebook Page
- Blogger to Tumblr
- Blogger to Twitter
- Blogger to Reddit
- Blogger to Pinterest
- Blogger to Telegram
- Blogger to Linkedin, etc.
Press Connect
Then login to each of the social media that you have chosen
Done
Advantages of Using IFTTT
Can connect most applications at once even if you don't use a Pro account
Disadvantages of Using IFTTT
Can't connect to Google My Business (Post on Maps)
B. Use the service dlvr.it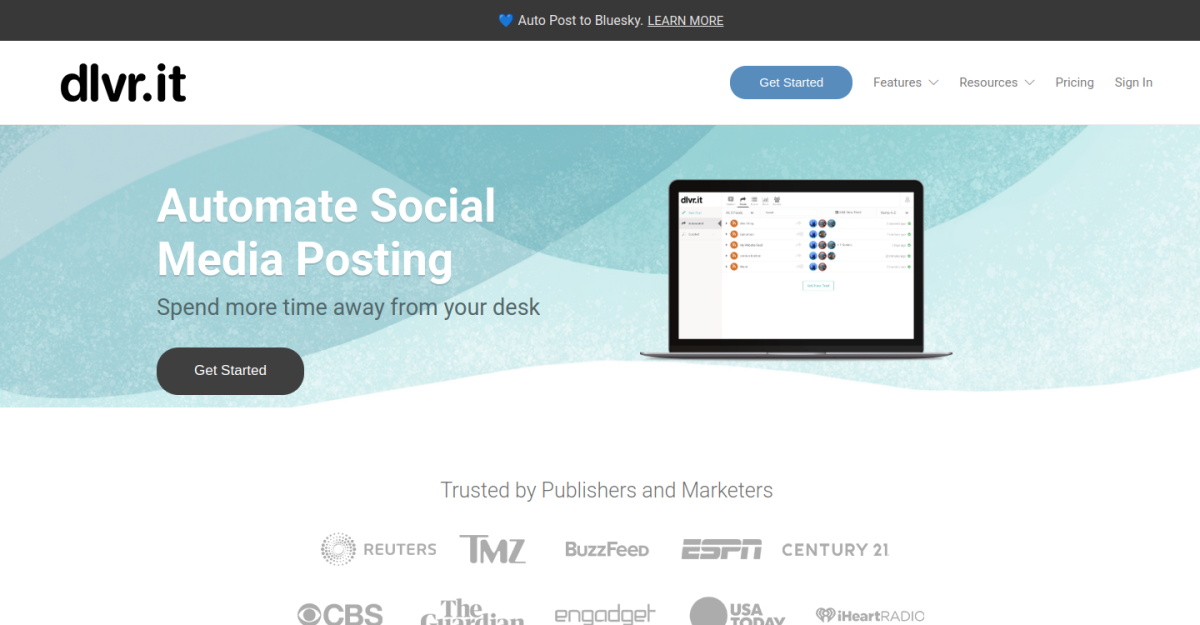 Visit https://app.dlvrit.com/
Register / Login
Tekan Add New Feed
Select Website Feed
Enter Blog URL Address
Press Search 🔎
Press Connect
Press Post Settings
Tekan Connect Socials
Press Connect New
Choose the social media you want
Login
Done
Advantages of using dlvr.it
Can be linked to Google My Business so that blog posts can fill posts on Google Maps
Disadvantages Use dlvr.it
Free account can only be connected to 2 social media
For maximum benefits, I suggest that you use both the IFTTT application and the dlvr.it service.